Embroidery & Vinyl Printing

Our Embroidery and Heat Vinyl Printing Service
Here at Somerset Workwear, we do like to add that special finishing touch to your garments. We offer an in-house embroidery service that is supported by many years of experience that our embellishment team has gained from working for companies such as Dickies. That knowledge enables us to offer a professional service ensuring the end result is the best possible and one we know you would expect.
Embroidery has a few key stages but it is worth remembering that the design and quality of the graphic you supply are paramount. Some pointers to consider:
Shading and colour fading - embroidery cannot produce colour gradients such as a print can.


Fine lettering - embroidery produces better stitching if it has some volume to the characters. A 5mm letter height is the minimum.

Think about the size you require and where the logo will go. Will it be on the left breast or right breast area? Maybe you require it on the back and enlarged to really show it off.
THE EMBROIDERY PROCESS:
1. We will request from you your design in either a jpg or good quality pdf file and where you wish the logo to be positioned.
2. If you have specific colours required do let us know. Remember there are thousands of Pantone numbers but not as many manufactured threads. We will try and match as close as possible to your colour.
3. We will then digitize the design which basically converts the design into stitches and in a format for our machines.
4. A sample will be run on a swatch of closely matching finished-garment material. This is produced for both you and us to see the result of the digitising. It will allow us to gauge whether any adjustments need to be done.
5. We will send a photo to you for your approval. We do not proceed until you are happy with the result.
6. Text - if you are looking to add a name to your garment then we do have a library of standard fonts to choose from.


VINYL HEAT TRANSFER
Vinyl heat transfer takes your logo design and will produce the logo exactly the same as your graphic.
This process is ideal for garments that cannot be embroidered such as waterproof jackets and coats.
Hi-Vis coats, jackets and waistcoats show logos and safety messages clearly and boldly.
We can apply a vinyl print to your standard garment tops such as polos and t-shirts but for long product life, care of cleaning is important. VINYL PRINTING IS NOT THE SAME AS AN INK SUBLIMATION PROCESS!
SOME EXAMPLES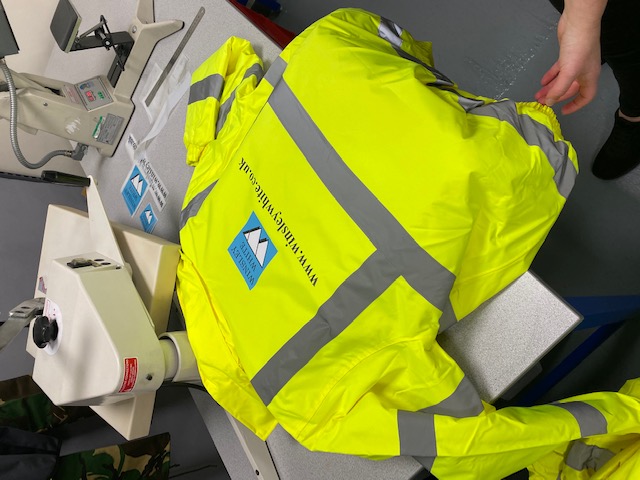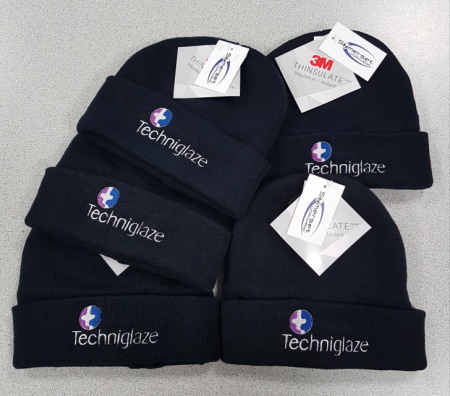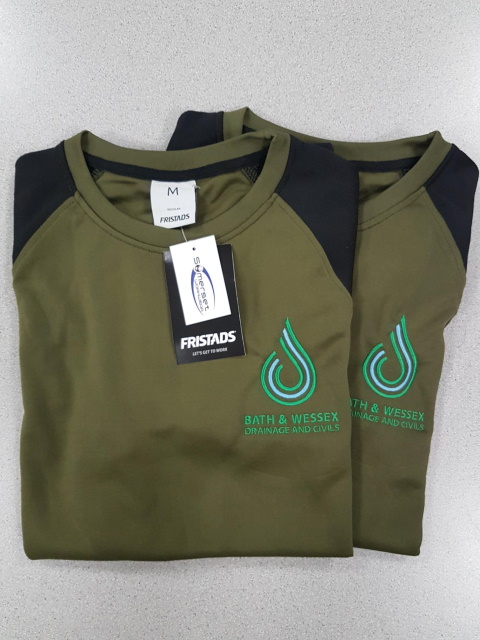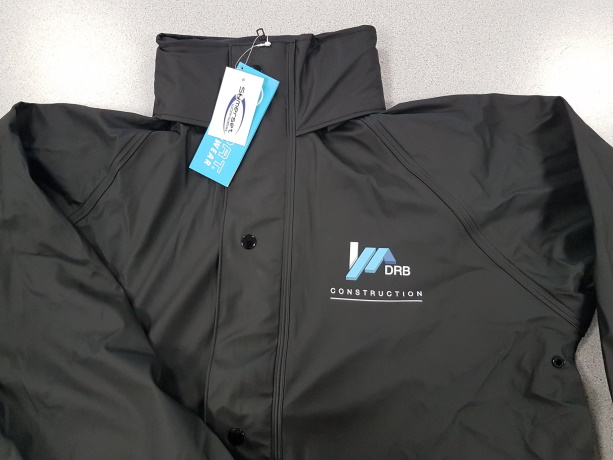 EMBROIDERY AND VINYL PRICING:
We have shown examples of the cost of our embroidery in the table below. This is a guide only as once we know of your requirement and have seen your logo design then we can confirm the price.

Digitising - This is a one-off cost that on repeat orders is not charged.
Text stitching – For text using one of our standard fonts there would be no set-up cost. For customised fonts, a design set-up cost will apply. For text embroidery, we do not send approval images.
Vinyl printing - There is no setup charge. The cost per print is based on the size of the logo.

CONTACT US
We would love to hear from you. Adding embroidery or heat vinyl transferring to your order through our Workwear website isn't currently an option we have in place, but simply contact our friendly and experienced Sales team who will be happy to assist you. Call us here on 01761 233230 or e-mail sales@somersetworkwear.com